26 Jul 2017
Keeping on with our interview series, we are very happy to bring you one of the best concept and matte painting artists in Spain: Marta de Andrés (also known as Marta Nael). Marta won the Expomanga award to best Spanish Illustrator in 2011, and in that same year, the Rising Stars Award from English magazine ImagineFX. She has worked in lots of comissions for book and music covers, and has published four artbooks with Babylon Editions.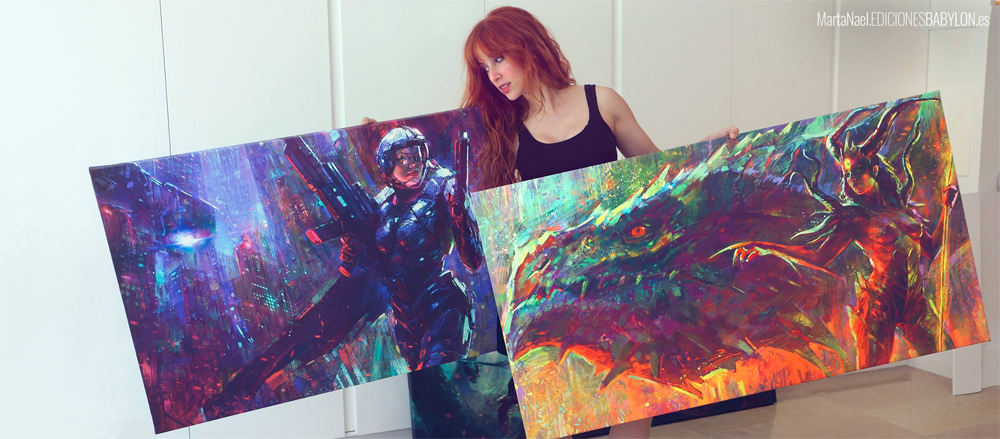 Tell us a bit about yourself: How did the road began for you to get into art and illustration?
First things first, thanks a lot for interviewing me!
I feel that I have been drawing since forever, but my first memory drawing might be when I was five years old. At that time, a teacher told my parents to enroll me to an art school and I started experimenting with charcoal, oils, and color pastels. I remember that I always knew I wanted to study Fine Arts. That's where I met a professor that got me into the brush strokes technique, as opposed to line drawing, and to create stuff playing with light and color.
During the last year of my degree, I began to try out digital illustration and matte painting, and I had my first commissions soon enough. I began to work with Ediciones Babylon next year, and I've already published four artbooks so far.
Your style is quite unique, and you even called it "Digital Impressionism". Where do you find inspiration for your work, and how do you melt your sources of inspiration to create your own way of art?
Thanks a lot! Truth is, I discovered my passion for light and color thanks to this professor at Fine Arts. I worked more a more on these concepts and I tried to take the technique a step further, adding more saturated colors. That's where the "Digital Impressionism" thing comes from, since it's mainly based on XIX century Impressionism.
Sorolla has always been a great inspiration for me, but my work is also very influenced by Turner. From living artists, I would highlight Nathan Fowkes and James Gurney, for their use of light and color. But I actually follow a ton of artists with styles very different to mine.
I get inspiration from mostly anywhere: series or movies, books, or even while walking down the street you can get to see a unique light somewhere.
Talking about digital: can you tell us more about your process and how you blend digital and traditional techniques?
I always start by filling the whole canvas (be it digital or a real one) with a neutral color that is in the palette of colors I've got in mind for that particular piece. I try to play with complementary colors and color warmth, always using one color as an "accent" (due to its saturation or because it stands out from the rest) to highlight an element from the scene and make it the center of interest. Shapes are created by the contrast of light and color surfaces, in order to block in both the characters and the background.
I try to use both digital and traditional techniques, even if separately. If I've been doing digital work for quite a time, I need to get back to traditional techniques, and viceversa.
You've got a strong presence on Social Media. How do you manage your social networks, and how much time do you spend on them?
I try to spend on them at least one hour daily. It's not always an easy task to do because of the wide range of social media networks I'm in. I used to spend more time on Facebook before, but with the latest changes to their algorithms my content does not reach as many people as before. So I tried to open myself to other platforms such as Instagram, Youtube, or Artstation.
Each social media plataform is a little universe itself. There's always a format or way of telling things that's better for each one, or a time range where your content spreads better. I try to post updates on process and final pieces, or pictures from events I attend.
What good (and bad) things do you feel the Internet and the new technologies have brought to your field?
I think it's mostly positive. Without the Internet, I could only reach people next to me, dramatically decreasing my chances to find customers and get commissions. Thanks to the Internet, I can reach virtually any person, anywhere. Bad things about it come when people make a bad use of it. But professionally, I think it offers only advantages.
And last, but not least: any advice for aspiring illustrators just starting up their careers?
I always say the same thing: work, work, and work, and when you think you're done, keep working. I don't believe in being "gifted", but in hard, constant work.
On the other side, if you want something, fight for it and do not give up. But always try to be humble and critical with your work, while believing in yourself to reach what you want.
Thanks a lot, Marta!
back to list