22 Jun 2015
Our next interviewee is Carla Fuentes, better known as Littleisdrawing.
Carla is a freelance illustrator from Valencia, and has worked on a wide range of projects and clients: illustration work with publications such as Forbes, Union Magazine or Squire; projects with brands such as Coca-Cola, Nike, Seagram's or Honda; and work for music bands and festivals such as Pollock, Deleste or Festival de les Arts. She also puts a strong focus on personal projects.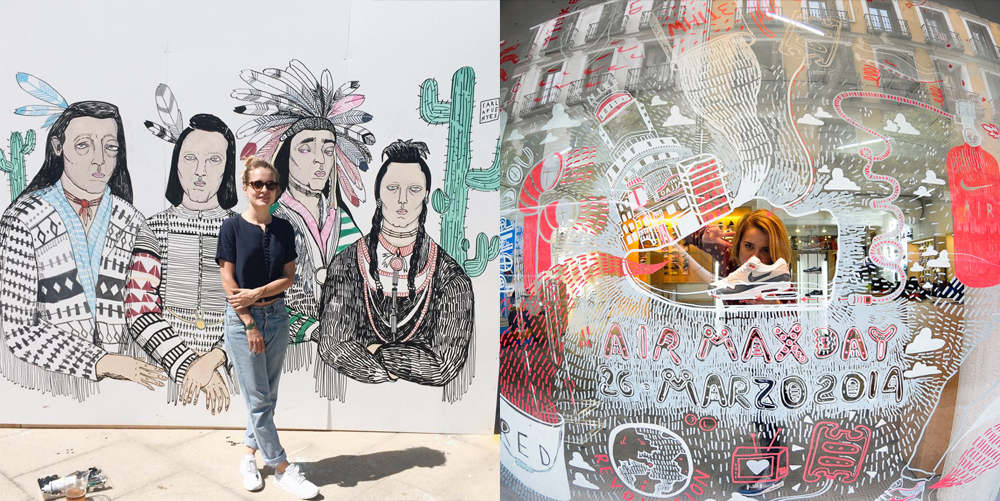 Where did the road to become a successful illustrator began for you?
It was a bit of an accident. I wanted to work professionally on fashion and be a fashion designer. But I began to upload dooddles and small drawings to my fotolog, and work began arriving from there, each time more interesting and professional, until today.
What inspirations sources do you take from for building a unique, personal style like yours?
I get inspired by contemporary artists like Freud, Hockney, Peyton and Eduardo Arroyo. I love how they deal with portraits and the human figure. I take all my inspiration from them.
You worked with big brands like Coca-Cola, Pull & Bear, Nike or Women's secret. How is working with them? How can aspiring illustrators get to work with this kind of customers?
Brands seek exposure through a number of disciplines, and it is great to see them betting on art and illustration as a more creative way to get to their customers. I like working with brands, they trust a lot on your work and usually give you a lot of freedom.
My advise would be being always open to any proposal and let yourself go and find what the brand inspires to you.

We know you never leave home without your tablet, and you are one of the most "technological" illustrators we know. How do you use technology on your day-to-day? Does it play an important role when managing work and clients?
Technology is something essential to me. I'm always connected to the world through Internet and my computer, and the work I get is always because of the exposure I get from the net. I use the computer as a work tool to scan, refine, etc, and I use my tablet for all the other of tasks, like updating social networks, sketching, etc. In my opinion, technology is indispensable.
And last, but not least: any advice for aspiring illustrators just starting up their careers?
Create something new, with its own personality.
Thanks a lot Carla!
back to list