23 Jan 2018
Time to get back to our interview series. We were a bit busy organizing the Cinema Challenge Expo and also travelling to Ilustrísima and Ilustrasal, so sorry for that!
It was on the latter conference, Ilustrasal, were we met María Simavilla. Maria is from Salamanca and works as illustrator for editorial and publicity projects, with clients such as Anaya, Edelvives, SM, or Edebé. After seeing her talk at Ilustrasal, we knew we had an awesome interview waiting to be done. And as you will see, we were exactly right!
Tell us a bit about yourself: How did you end into art and illustration?
Rather than "ending" there, I never left! I was one of those cheeky kids (although my mom says otherwise!) that always knew what she wanted to do when she grew up. But I never knew how I was going to make that love for art and drawing happen in the professional world. "Working" always sounded bad to me, I just wanted to make drawings (more or less like nowadays!). But of course, I had to earn a living sooner or later.
But luckily, I found illustration as a professional medium during my college degree. I studied Fine Arts at Salamanca and took contact with illustration thanks to the subject that Miguel Ángel Pacheco taught. It was love at first sight (with illustration) and began working to be part of the profession. I remember that on my last day of class, Pacheco told me something like: "You could be an illustrator, but you'll have to work a lot". And I thought: "Well, if it's that all, let's go!". That's what I did and keep doing ever since.
What are the artists that influenced you the most?
Something I always had in mind during my studies is the strong determination to not be like anyone else in particular. So that's why it's a bit difficult for me to name artists that influenced my work. It is inevitable to be influenced by work from your peers on a technical level, because we are always learning from each other, but I think having your own voice is key.
When I finished my degree and while I worked to build a strong portfolio, I ran a blog about illustration where I also featured great illustrators I love. All of them were great influences and curating all that work and pictures were a great exercise, and I learnt a lot from that. But aside from that very diverse sources, I think the authors that most had an influence in me were the ones who illustrated my favourite childhoods books. Specially english illustrators like Quentin Blake or Patrick Benson, who illustrated my beloved "The Tough Princess". But I think this influence is more on "character" rather than visual style: it is on the characters and the atmosphere they are walking in. It is something subtle that is always present in my drawings.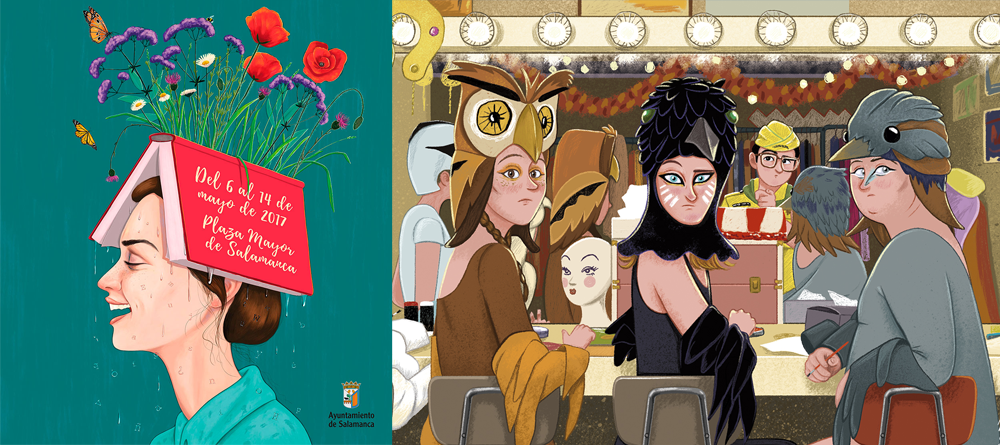 Your production is mainly digital: can you tell us more about your process? Do you blend digital and traditional techniques?
The first steps of the my process are still traditional, or at least I try them to be. I always sketch on pencil if I'm not running short of time, in which case I'll sketch on the graphic tablet right away. But I need to keep touch on paper, and it's true that I'm more eager to get my hands dirty and make things far away from the screen these days.
When I've scanned these sketches, I colour them, and the process of doing that resembles inking on a light table. I use the sketch on a layer for reference, and re-draw and colour on Photoshop. Some years ago, I would do that "re-drawing" process on Illustrator and then export to Photoshop to add textures and details, but as my works has evolved I've found myself using Photoshop only and leaving vector stuff aside. It is more exciting and I feel like I have a lot more freedom this way.
You work mainly for the editorial sector. What is it like? What qualities does a client and project need to have for you to feel comfortable and motivated?
The editorial sector is a huge machine that moves insanely fast and I'm just a tiny part on that mechanism. I'm sometimes overwhelmed by the speed in which the publishing market operates nowadays, both as a consumer and illustrator working for editorial projects. I've got the impression that the industry releases far more publications than the average consumer can cope with in a life, and that's great and awful at the same time, because I don't know if this pace is sustainable at all.
I worry about that because I'm one of the people making a living on that, and I'm trapped on the rythm of this great consuming machine. But I'm also worried about the amount of good stories (illustrated or not) that may go unnoticed because of the speed of the market. Deadlines feel tighter and tighter, and that always takes a toll on our work. I feel we sometimes are feeding an unsatiable beast.
That would be the ugly side of it, but of course there is a bright and romantic side: telling and sharing stories. Sometimes beautiful texts come to you, and illustrating them is more a gift than a job. Even with the tight deadlines, you remember why you are doing this and make amends with your profession. If the project is managed by a great publishing company that cares about the work and trusts you, then everything goes smoothly. I had the chance to work with great editors that gave me freedom and trusted me. That's key to me for being creative, be motivated, and enjoy the process. And that, of course, shows up in the final result.
Aside from the spanish market, you also worked with projects abroad. How is the experience? What differences do you find between Spain and other markets?
I work mainly for the spanish market, my collaborations abroad have been more casual. Right now, I'm working on a project with a Norwegian publisher and the most relevant difference is budget. Work abroad is better paid than in Spain, that's a fact. That's why I feel we have to do as much as possible to work on international markets, even if it can be hard to begin. I know other kind schedules and deadlines are handled, but that's something I'll have to discover myself bit by bit. Let's hope!
And last, but not least: any advice for aspiring illustrators just starting up their careers?
For starters, the one that was first given to me: work, work a lot, and don't feel discouraged on rejectments and closed doors. Don't work for others, for likes, followers, editors, or agencies.. be selfish and work for yourself, for your own enjoyment. Do not try to be like someone else, be like the person you see in the mirror: yourself. And always be patient!
Thanks a lot, María!
back to list