04 Jul 2017
In our current interview series, we are trying to show insights from artists and illustrators, but also from the publishing firms who look for artists in their projects. We met with the founding team from Grafito Editorial (an independent spanish comic book publishing firm) in the last edition of the Splash Sagunt Comic Festival. We have been slowly cooking this interview since then, and finally, here it is! We hope you enjoy it.
Tell us a bit about Grafito.. How were the project and publishing firm born?
Grafito is the result of mixing two different groups of people. Some of us come from the fanzine and autopublishing world, and others from marketing and business. But all of us wanted to achieve the same goal: tell good stories via great spanish comic book artists. That's why we chose to publish to do our own production, and then license later to other countries. It's a lot of work, but we are very happy with the catalogue we managed to publish until now.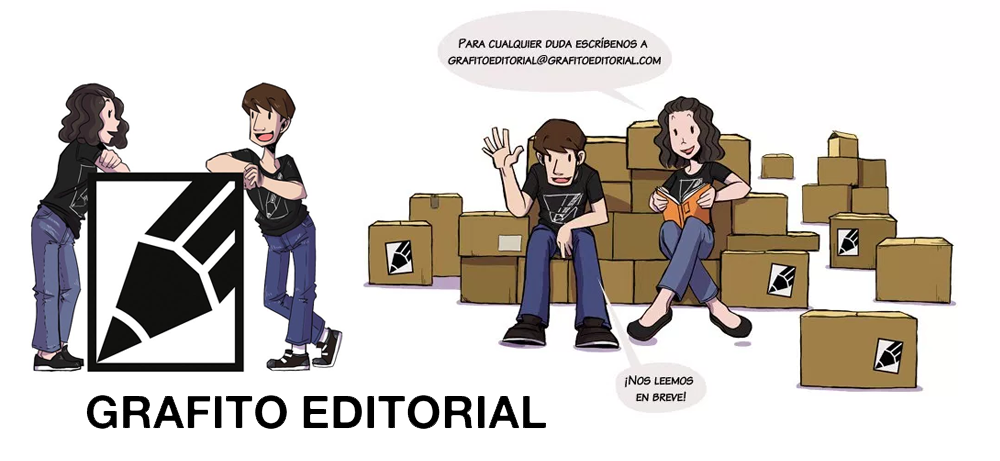 Who's behind Grafito? Tell us about the founding team and collaborators.
The two main "public faces" of Grafito are Guillermo and Yolanad. Guillermo Morales is on charge of the publishing and production side. This means looking and selecting projects, but also walking the authors during all the phases of the process. And, of course, everything related to printing and publishing.
Yolanda Dib takes care of marketing, communicacion, events, and international business development in order to sell licenses. But these two areas intersect a lot, and we like to agree on all decisions. It's a lot of teamwork, really.
We work with great professionals, too. Delfina Palma is our "license scout" and overall talent hunter. She is the illustrator who made all the branding for Grafito. Jesús Huguet works as layout designer in all our comic-books, and helps in lots of details with a great know-how as comic book artist.
What is the selection, edition, and publishing process of Grafito?
We are always looking for new titles in an active way. We are looking for autoconclusive stories that are about 100 pages long. If we spot an artist we like, we'll probably talk with her and ask her for more stuff.
We constantly look for new projects. A lot of them come straight from our website. We carefully tell there the guidelines to send us material (briefings, artists or writer's portfolios, etc.)
We don't really care if the authors are already well-known or not: we think their work has to speak for itself. And as we already work with a lot of writers and illustrators, we introduce each other to build teams.
What do you need from authors and artists to feel comfortable working together?
We like to work with creative, involved people who are willing to tell a good story and have the required discipline to meet deadlines.
Publishing a comic-book is only half of the work. Promoting both the comic-book and the author takes a lot of work in social media, talks, shop presentantions, and other events. This must be a joint work of the publishing firm and the author. We work together for a long time and usually end up being friends. We are lucky enough to say we enjoyed working a lot with all of our authors and artists.
You made a bet to publish both on paper and digital formats. How did the digital media changed the editorial world, in your opinion? How do you see the future of comic-books and editorial publishing?
Our goal from the very start was making our comic books available to as many people as possible, and that's why we also sell them in a digital, unexpensive (2,50€) version for the people willing to read in a tablet device.
But the average comic book reader is a natural born collector, and our main revenue still comes from paper comic books. A lot of innovative new formats have been seen these years, but still there's no silver bullet.
Spanish market is small if you compare it to other markets, like the French-Belgian market. But we've seen a rise of interest on people who usually do not read comics, thanks to the rise of graphic novels and also the current comic book movie adaptations.
Our business model looks getting out of Spain. We export stories to other countries to reach as much readers as we can. Actually, we are glad to announce we just sold four licenses to a frenc-belgian publishing firm (Buckson, ¡Socorro! Mi madre tiene Facebook, Cazador de Sonrisas y Arde Cuba). As this job need to visit international expos and fairs, we also began to work as agents for our authors.
And last but not least: What is being cooked right now at Grafito? What new stuff can we expect?
We've got some things beeing cooked in the oven. For starters, a main course: ARDE CUBA from Agustín Ferrer will be released in October. It is an adventure story that takes place in La Habana just before the Castro Revolution, told through the eyes of Errol Flynn's photographer: Frank Spellman.
We are also preparing a very diverse buffete: a spies comic with lots of Hollywood stars from the 50s, a historical adventure in the ancient Greece, and another magic/humor story. And also some others more from which we won't be telling any details (we have to keep looking mysterious and interesting, you know?).
Thanks Yolanda and Guillermo!
back to list