23 Apr 2018
Following on our now quite extense interview series with artists and illustrators, today we are bringing you Shycheeks! (or Sara). Shycheeks is from Valencia, our home town, and a true Drawfolio veteran (she is with us since 2014!). We love her work, so an interview in our blog was due. As you'll see, Sara mainly does digital illustration and comissions for books, events, or firms, and also her own production and items, which sells online and on art fairs.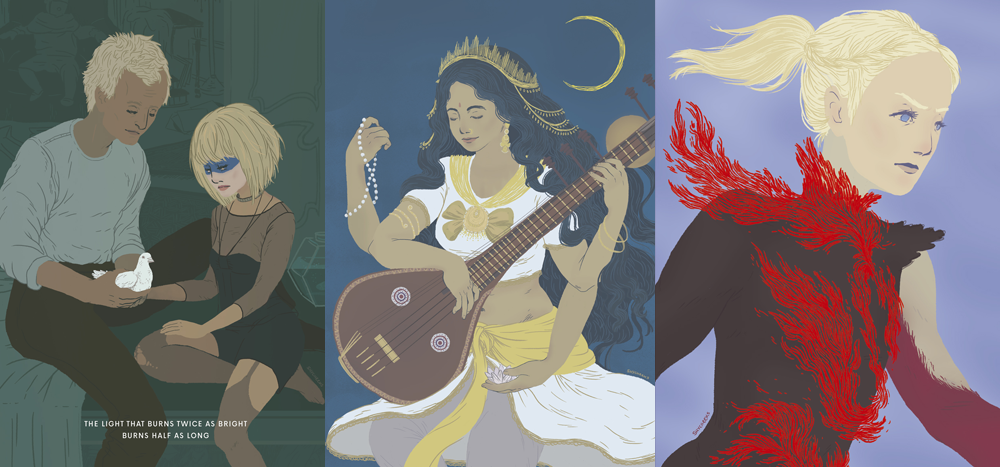 Tell us a bit about you. How did you decide to work in art and illustration?
I'm in love with comics and animation since I was a child so I never left drawing. I had the chance to do artistic studies in my hometown before university and then I went to Valencia to study Fine Arts. After that, a one-day workshop runned by Laura Pérez and Io Bru in Valencia was really inspirational and helpful to me as they told us a lot about how to start, build a portfolio, find clients and contact agencies, attend events, legal paperwork… All those important things that we need but wasn't told in my university. A bit later I started to study illustration in ESAT where I found really interesting classes such as the Carlos Ortín and Malota ones. Ever since, I started my adventure of drawing, sending emails, attending events and meeting new people. Until now I've done commissions for books, events, little companies and videogames and now I'm spending most of my time doing my own merchandise and selling it at conventions and also online.
How is your process? Do you mix analog and digital tools?
In my early years doing Fine Arts I bought a Wacom Bamboo, so while I was mostly drawing with traditional tools, soon I got used to draw digitally even from the sketch. A lot of people doesn't believe me when I say that I enjoy drawing most rather than painting. I use to draw everything a couple of times before starting to use color, but it's true that I use to pay a lot of attention to my color palettes and I use a limited number of colors. I always use Photoshop and I'm the kind of person that uses lots of layers, but I try to keep them arranged in folders so I don't get lost.

Who are your biggest influences and the artists you most look up to?
Recently I shared an influence map in my social media. I love the stylised characters and scenes painted by pre-raphaelites, artists like John William Waterhouse, Dante Gabriel Rossetti or Frederick Leighton. Now I see myself so influenced by the artstyle of Samantha Mash, Sara Kipin, Emily Carroll and Emily Cheeseman. I hope to draw illustrations as beautiful as theirs sometime.
Also, you are so active in social media. How do you manage that and how much time do you spend on it?
I like to pay attention to any new app, web or software, but it's nearly impossible to spend time in all of them at the same time. While some time ago I was mostly using Facebook or Tumblr, now I prefer Instagram or Twitter. Or while I was using Deviantart and Behance some time ago, now I have more presence in Drawfolio and Artstation. I try to post on Instagram every two or three days and everyday in the stories, while I post the same on Twitter but with more interaction with other artists and friends. It's hard to control what every algorithm wants from you in every social media, but most of them just wants you to be as active and using their possibilities as possible.
What positive and negative sides do you think the internet and new technologies have in your field?
On the positive side: to me as an introvert person helps me to reach and meet more people, to show my work anywhere and specially to find information about everything so easily. I don't need to face anyone to get the email of an editor, I can ask directly to any artist how have they done anything or my illustrations can reach hundreds of persons in a day. On the negative side: there is a constant pressure to keep posting and producing art content to share in your social media and there is a high risk to get addicted to earn more and more likes and followers. You must try to avoid that and focus on drawing and to not compare yourself with others. Also you must learn to deal with some people that doesn't know the value and effort of what you do and came to you asking for free drawings or use your work with no credit or license...
Finally, any advice to those who are starting to work in illustration?
I encourage them to start showing their work with no fear even if they don't have so much confidence yet. People like to see your work process and your art progression, not only finished works. I would say them not to undervalue their work and to help others understand the value of your work, time and effort. And specially I would say them to cheer their artist friends and send them lots of love!
Thanks a lot, Sara!
back to list