21 Jan 2020
As you know, we are always thinking how we can make things easier with Drawfolio. We try to discover which details, no matter how small, to polish so you can have a better portfolio website.
These are the kind of details we are bringin in this new batch of improvements: little tiny things that will make your day to day easier.
---
Custom text for PDF Portfolio Download button
You can now write a custom text for the link in the same place you can upload the PDF (Information -> PDF Portfolio)
---
Batch mark messages as spam (or viceversa)
In the Contact Messages section, you can now mark various messages as spam at the same time (or the other way around, move messages wrongly classified as spam to your inbox).

---
Outer links in your site's menu
You can now add direct links to other website as a regular item in your site's main menu. Just add caption and url address in "Add Link to Menu", and the new item will appear on the "Available Items" list, so you can add it to your main menu whenever you please.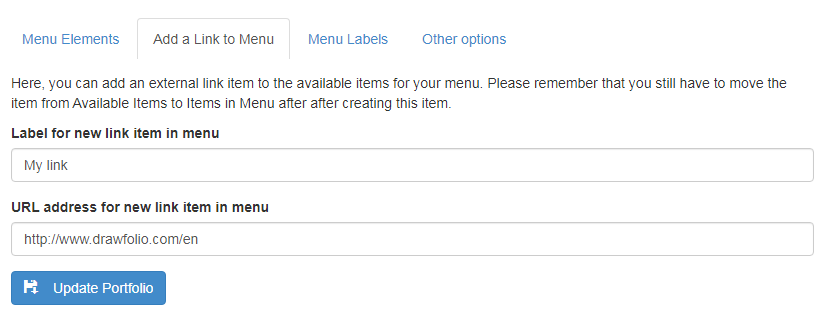 For any doubt, question, suggestion or problem, please contact us at uservoice or write us at info@drawfolio.com.
back to list