10 Nov 2014
It was nearly a year since we got our first PRO users, and we have been working to make the whole process of getting the current status of your subscription a lot easier.
If you are one of the PRO customers, now you got more things to see and do at "My account". For starters, you can change all your invoicing data on the "Invoicing data" tab. If you became a PRO user during our private beta period, please be sure to fill in all your data in this tab.
All the information about your subscription is in the "Domain and Subscription" tab. There you can see the start date of your current subscription, and its expiry date.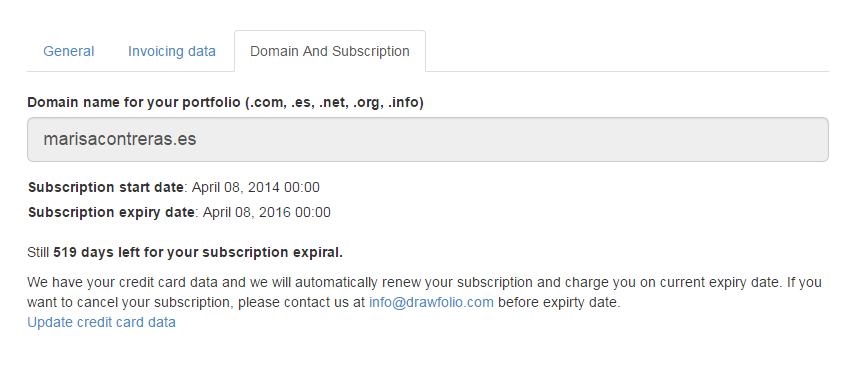 When the time comes to renew your subscription (as we hope you will do!), the are two scenarios you can be in:
If you paid via credit card, you don't have to worry about anything. Unless you tell us not to renew your subscription, we will automatically renew and charge our fee on your current expiry date. If you want us to charge you to another credit card, you can update the credit card data on the "Update credit card data" link.

If you paid via bank transfer or paypal, you can contact us to deal with your renewal payment. And if you now have a credit card available, you can pay for your renewal with it click on the link "Pay now for your subscription renewal with your credit card.". Please be aware that, as it will be the first time you give us your credit card data, we will charge for your renewal on that moment, but a full year will be added to your subscription expiry date.
In either of two situations, please remember to deal with the renewal of your subscription with time ahead. As domain registries are involved in your subscription, we recommend you have everything set up at least 30 days before the expiry date.
For any doubt, question, suggestion or problem, please contact us at uservoice or write us at info@drawfolio.com.
back to list