21 May 2018
Today, we are bringing an exceptional guest to our interview series: Juan Carlos Paz (also known as Bakea). Juan carlos works as a freelance art director, illustrator, and even sculptor. After years of working with some of the most important advertising agencies on Spain, Juan Carlos left all that behind to focus on illustration, and has developed a unique and personal style and universe of his own (Bakelanasland). We met Bakea at 2017's edition of Ilustrasal and we were eager since then to interview him for our blog.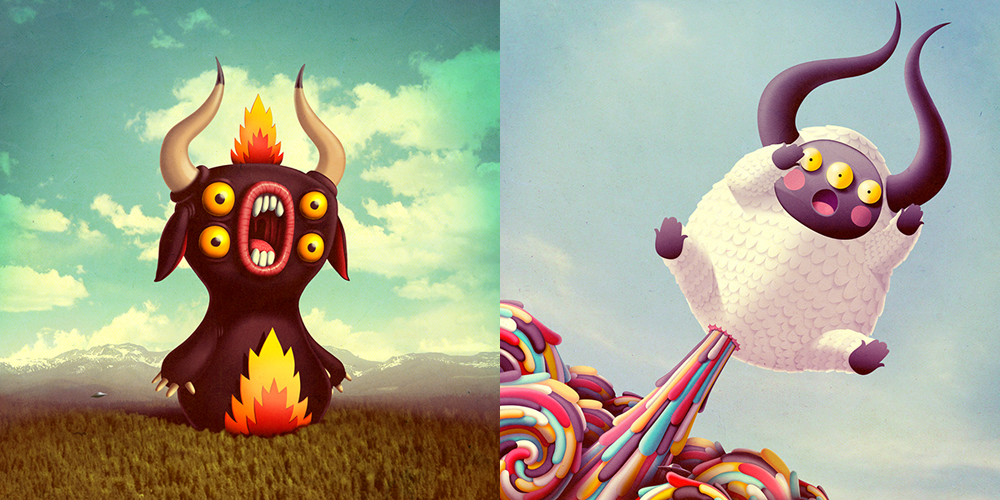 Tell us a bit about yourself: how did you end in the illustration and design?
Hi! I'm Juan Carlos Paz, I was born on Puertollano (Ciudad Real) on 1984, and I love drawing!
I've been drawing everything everywhere since I was a kid, so it was clear to me that I wanted to focus my career towards that.
When I finished art school, I opted for a college degree on Advertising and PR. After that, I worked for 5 years on big spanish advertising agencies, but came to realize that it wasn't what I really liked. So I began to draw more and more, and show my work on Internet, trying to work as a freelace illustrator some day. And luckily, I got there!
As you told on your talk on Ilustrasal 2017, your presonal projects evolved in some kind of "brand" that gave you a lot of visibility and brought clients, projects, and comissions. Can you tell us about how this happened?
Yes, I would say that it's more of a personal style rather than a brand, and that makes my work easily recognizable.
When I worked for advertising agencies, I was asked a lot to "copy" the style of different illustrators, and I realized how important having personal work and style is for an illustrator. Also, there's some work of experimentation and research to find a style you like and you feel comfortable with.
Who are your biggest influences and the artists you most look up to?
A lot of them! From current artists, I love Mark Ryden, Gary Baseman, Jack Sacks, Glanderco, Grand Chamaco. Also, being around friends who work on illustration inspires me a lot. Diaz Faes, Wearbear, or Nose, are friends but also very inspiring.
From classics, I love Grant Wood, Henri Rousseau, or Dalí.
What qualities does a client and project need to have for you to feel comfortable and motivated?
The most important thing is that I need the project to be interesting. Being interested in a project makes everything more simple, and gets you more involved. When this happens, everyone works towards the same objectives, and the final result is always way better.
You've got a strong presence on Social Media. How do you manage your social networks, and how much time do you spend on them?
Well, not so strong, I would say! I invest less time on them than I should. Nowadays, social media is super-important and deserve a lot of attention. Because of my particular style, I take a lot of time to make each illustration, and that makes me post less than I would like.
And last, but not least: any advice for aspiring illustrators just starting up their careers?
Don't give up! You've got to experiment with different stuff, and look for a style that clicks with people, not only with yourself. I began drawing black and white Hell Angels and now I draw colorful monsters!
Thanks a lot, Juan Carlos!
back to list